Habib Khan Totakhil
Afghan journalist, Habib Khan Totakhil works with the Wall Street Journal, reporting on the Afghan conflict for more than a decade; becoming not just one of the few journalists to have embedded with both government forces and the Taliban but also being abducted and held by the Taliban. Honoured for "Courageous Journalism" by the East West Centre in 2016, he has also won the Rumi Award for "Best International Reporter in Afghanistan" in 2014. He is currently studying political science and public administration at the American University of Afghanistan.
Hemant Gaba
Hemant Gaba is an independent filmmaker of documentaries, features and shorts. His debut feature Shuttlecock Boys was named one of the best indie films from India by Raindance Film Festival. Japan in Nagaland, a documentary written and directed by him, was broadcast on Doordarshan after premiering at Film Southasia, Nepal, while Super Girl, a short that he co-directed, premiered at TIFF Kids International Film Festival. One of the 11 directors to co-direct X: Past Is Present, he is currently working on a documentary on IIT aspirants in Kota, a winner at The Asian Pitch 2016.
Juhi Shah
Juhi Shah is a journalist of 27 years' experience. She has launched two English dailies—DNA and Hindustan Times in Jaipur—as associate editor where she edited and successfully ran DNA After Hrs and HT Jaipur Live, respectively. She now works freelance, documenting, writing, editing, designing and publishing for both print and digital platforms, and has taken courses on journalism and communications at BITS Pilani. Her areas of interest are the arts, design, environment, heritage, and animal welfare besides observing people and social trends. She also loves holding conversations with personalities; and recently hosted the TEDx Global Anchor event in Jaipur.
Nilotpal Majumdar
Filmmaker Nilotpal Majumdar is founder president of Documentary Resource Initiative that organizes DocedgeKolkata, Asian Forum for Documentary, an incubation cum pitching forum providing intensive incubation, mentoring and international co-production opportunities. A frequent jury member and tutor-mentor at international documentary film festivals and incubation-cum-pitching sessions, he is also director, Manipur State Film & Television Institute, Imphal. He has been honoured with the European Documentary Network Award 2017 for outstanding contribution to the international documentary culture.
Samar Singh Jodha
An artist who uses photography and film to address issues of development, human rights and conservation, Samar Singh Jodha has shown in Barcelona, Boston, Delhi, Frankfurt, London, Mumbai, New York, Queensland and Washington DC. Jodha's eight-year long project on ageing in India remains the single biggest social communication project in terms of output and outreach. While his five-year work on the making of world's tallest habitat featured on Discovery and National Geographic, his television project has been commended by The New York Times. His installation Bhopal – A Silent Picture his multimedia public art project has clocked in over 150,000 visitors. Parallelly, he has worked with Bill and Melinda Gates Foundation, BBC World Service Trust and the United Nations.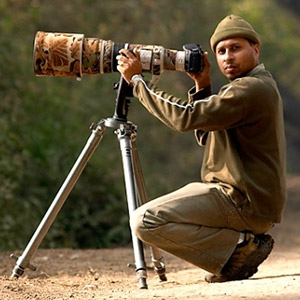 Sudhir Shivaram
Sudhir Shivaram grew up in Karnataka and got into wildlife photography in 1993 when studying engineering in Hassan, Karnataka. Post stints at Hewlett-Packard and at APC, he is now full-time into photography teaching, conducting wildlife photography tours and workshops. He won the Sanctuary Asia's Wildlife Photographer of the Year for 2012. His pictures are noteworthy for their technically sophisticated and evocative character. This green evangelist campaigns for wildlife protection, including engaging with young people to win their commitment to this cause. A former brand ambassador for Canon, he is also the founding member of the non-profit photo sharing site India Nature Watch.
Skye Morrison
Skye Morrison is a Canadian educator, researcher and designer with a life-long interest in traditional crafts with a PhD in Folklore from the University of Pennsylvania. She left full-time teaching in 2002 to pursue research projects and her affiliations in India with the National Institute of Design, Ahmedabad and the Indian Institute of Crafts and Design, Jaipur. She has been a visiting faculty at MICA, CEPT University, Pearl Academy and NIFT. Her research and publications include: Stitching Women's Lives: Sujuni and Khatwa from Bihar, India (1999), Strings of a Timeless Tradition and the film Keepers of Flight (2004) about the kite makers of Gujarat, and writing and directing the film Thread has a Life of its Own, Aboriginal Women's Stitched Stories (2004). Skye divides her time between Canada and India and is working on a book about the future of India being handmade.